Fall 2015 Mystery Amigurumi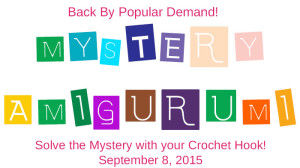 Mystery Amigurumi
Returning this fall on September 8, 2015 is our 3rd Mystery Amigurumi Crochet Along by The Crochet Crowd.
Our crochet along is being hosted by The Crochet Crowd. We will provide to you the weekly pattern and video tutorial that goes with the instructions.
This mystery will make an exceptionally great gift giving opportunity. There are not a lot of parts and you are welcome to complete many different versions during the mystery. In between the mystery weeks, we recommend you keep your Mystery Amigurumi is a bag / box safe with your yarn so you don't loose any pieces.