Stitch, Stop & Roll Crochet Afghan Challenge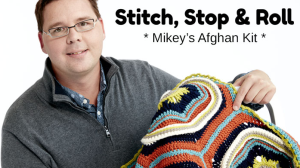 Stitch, Stop & Roll Begins January 11th, 2016
Crochet an afghan designed by me, Mikey, called Stitch, Stop and Roll. I have a review on my afghan if you wish to learn more.
The afghan is colourful and has a wonderful mix of texture and unusual techniques. A terrific afghan to expand your crochet skills with.
This afghan is available in a pre-assembled kit for those who would like to match one of the five colour options that are available. You can view all of the kits to see the colour combos.
This challenge is hosted by Yarnspirations as far as providing the giveaways and photo collections of your finished afghans.
Next Step
You are not required to buy the kit to play along.
January 11th, 2016, the video tutorial to follow along will be ready for you to crochet along with me.
Stay tuned for more information as it comes available.