Women's Peaked Hat Challenge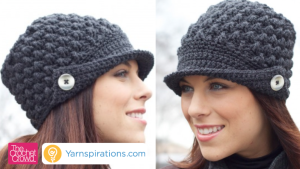 Women's Peaked Hat
This Challenge is Now Over. Thanks to all who submitted their hats. We received 4,409 entries for this challenge.
Challenge is from January 1 – 31, 2015. Ending at 11:00 pm on January 31, 2015, Eastern Standard Time.
The challenge will help beat the cold winter. It will also make for a great project to make for gift giving and charity causes.
Challenge Goals
Learn a New Stitch Technique
Learn How to Create a Visor
Use Buttons to Embellish Your Work
Create Opportunities for Gift Giving and Charitable Donations of the Finished Hat
One lucky winner will be selected to receive a Yarnspirations Gift Pack, value $100 + Crochet Crowd Gifts.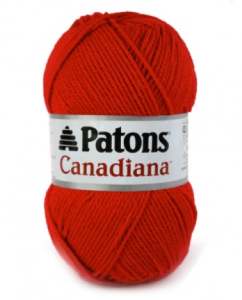 Materials List
2 Skeins (if wanting a solid colour project) OR 5 Skeins of Different Colours (if you want to play with colour for a unique looking project) of Patons Canadiana Yarn, 3.5 oz / 100 g: 205 yds / 187 m. Learn more About This Yarn and/or order online.
Size H/8 or 5.0 mm Crochet Hook
2 – 1″ fancy buttons to go with the colour you decide. You can change the size of the buttons if you cannot find 2 – 1″ buttons that you like. The finished project must have buttons to qualify.
Needle and thread to fasten buttons to project.
For this challenge, you are given 3 options to be able to follow the pattern. This will allow everyone to be successful. This is a intermediate level project.
Written Instructions
Crochet Diagram
Video Tutorial
Increasing the Size – NOT IN PATTERN
Some crocheters are experiencing a sizing issue. If your hat is appearing too small by the time you finish round 8. I am going to give you two additional rounds to follow to increase the diameter of the hat by 2″.
My advice will put 4 DC's between each spoke instead of just 3. It will make a significant difference.
ROUND 9 – Ch 2, *1 dcfp around next dcfp. 1 DC into the next 3 dc, 1 dcfp, 2 dc into next dc and then 1 dc into the next 2. Repeat from * AROUND
Round 10 – Ch 2, *1 dcfp around next dcfp. 2 DC into the next dc, 1 dc into the next 2 dc, 1 dcfp, 1 dc into next 4 dc. Repeat from * AROUND
Once you get this done…resume the pattern as normal starting at Round 9 as per the pattern.
Free Pattern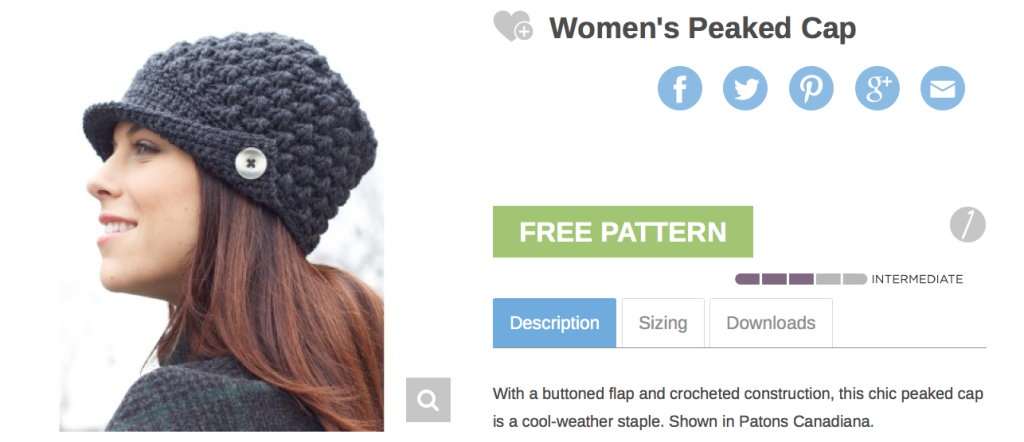 Video Tutorials
General Guidelines
Each completed project you do is an entry. You are welcome to submit as many completed projects as you like. If your projects are all the same colour/design, you must take a group photo to prove there is a multiple as each hat qualifies as an entry.
Suggested Yarn is Patons Canadiana; however, you may substitute your yarn to make this project. Review the Patons Canadian information on Yarnspirations.com to determine substitution if required.
You can choose any colours you wish and you can mix and match your yarns. Project can be done in solid or mixed colours.
The pattern must be followed completely which also includes the buttons on the side of the hats. Extra embellishments can be added to the project after the main project is completed.
You can change the button sizes if you prefer. Keep in mind the finished project needs to have buttons to qualify for the entry.
There is no advance sign up required.
The challenge is open to all fans of The Crochet Crowd. There are no restrictions of country of origin associated this challenge.
The draw at the end is random to be fair to all challengers.
Standard Guidelines
There is no sign up required to participate. Complete the project and submit your photo when you are done. This challenge is open to fans of The Crochet Crowd. There are no restrictions of country origin associated to our challenges.
You may use any yarn you wish. You may substitute your yarn for any brand or colors that you desire. You may create any color scheme
You may do as many projects as you wish. Each submitted project is considered a separate entry. If multiple entries are identical, a picture showing the projects together to prove their are multiple must be included with your submissions.
We require your photo to show the entire project so we know the entire project is done. The project photo must be showing all of the project for us to examine it's completion. Ensure your project is completely finished with yarn tails and etc not showing. It's like giving it out as a gift, we want to the see the photo showing as if you were gifting us the finished product. We will then know you are completely done.
This is intended for a fun community challenge only. We each are deserving of the highest praise possible for our own creativity. Let's have fun.
How To Submit Your Photo
Submitting for the Crochet Crowd Challenge is really easy.

Please email your photo to:

Please use Subject Title: Hat
You must include your name and full mailing address to qualify.
Attach your photo(s).

If you have forgotten to include your name and address in your email and have to resend, you must send in your photo again with your new email.

Give us a 3 day window to review and enter your photo into our challenge. Do not resubmit. We do not acknowledge the arrivals of each email, but you may check our assigned gallery for this draw to ensure we have received it. The galleries are in alphabetical order by the name you gave us.

To avoid your email from being misdirected and hitting our junk box. You must use the subject title. We are not responsible for emails that are misdirected as a result of a submission not following this procedure. To protect our servers, we delete any emails that arrive that have no subject title to prevent malware and virus programs from our systems.
Please read challenge rules before submitting photo.
Photo will be checked to verify it meets the challenge requirements.
All photos must be submitted during the challenge time frame only to be eligible for the prize giveaways. Entries after this due date will be accepted for our gallery but there are no prize giveaways after the deadline. We are firm on deadlines and do not offer extensions to be fair to everyone who has submitted on time.
When you email your finished photo to us, we respect your privacy and will only post your first and last name on the picture in our gallery with the photo so we can identify the winner at the end.
Posting your photos to our Facebook Wall doesn't count as an entry. You must send it to us in the form above for us to review.
We may feature the submitted photos in our social media such as Facebook, newsletters and/or website.
We will not switch the photo if you are unhappy with how it looks in the gallery, please ensure it's the photo you definitely want featured is the only one sent.
Your emails are kept on file for the duration of the challenge and then deleted afterwards. We do not add your email to our newsletter lists.
Due to the countless technology platforms and services, we are not responsible for any of our challengers if a mobile devices or technology that isn't compliant to being able to read our website, view our videos and/or get access to the free patterns.
Please verify your entry is in our gallery prior to our draw. We need up to 3 days to get your entry into our gallery. We upload it ourselves as part of our review process. If you do not see your entry, we most likely haven't received your email. Do not wait until after the draw to check if your entry is in.

We are not responsible for any emails that are not delivered to us before the due date.
Show'n Tell on Facebook
Featuring on Facebook is dependent on you. We do not upload your emailed photos to Facebook. You have to do that yourself if you want to Show N Tell your creativity.