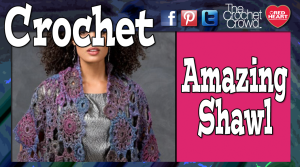 Amazing Shawl Challenge – June 2013
Have your ever crocheted a shawl before? This incredible shawl goes beyond panels of making what appears like an afghan that we are wearing. This has style and pizzaz. I will be honest with you, I was expect this to be tougher than it is. I was extremely pleased that it isn't a yarn hog either.

With any of our challenges, you can use any yarn or hook size you wish. You must follow the pattern in order to qualify. If you want to accessorize your shawl after it is completed, you are more than welcome to do so. See our above tabs for more info.
We are so excited about the next challenge as colours and ideas from you will be incredible as always. Our giveaway and proudly sponsored by Red Heart Yarns for the gift pack. We will have a beautiful Red Heart Tote Bag, Yarn, Crochet Crowd Coffee Mug and more.

©2013 The Crochet Crowd, Michael Sellick