Summer Stitch-cation 2015 Challenge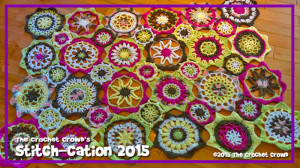 The Crochet Crowd's Stitch-cation
Crocheters have asked to be challenged for a second year of our Stitch-cation over the summer months.
Running: July 1st – 6:00 pm EST Labour Day, September 7th, 2015
If you missed last year, Stitch-cation is an afghan project that is meant to tempt, tease and teach you new tricks but have a really cool afghan at the end. The challenge is open to everyone to participate.
This year, the afghan is unusual as it's a 'afghan mash up' of two patterns plus 2 original patterns by Mikey that all come together. I will tell you, there is no sewing your afghan pieces together in this challenge.
The afghan will be easy to assemble and you and be strategic with how you do it as you won't have to be buried under an afghan during the summer.
It's like our 'pact' over the summer to inspire you further with your crochet skills. Submissions for our Stitch-cation happen all summer long.
Challenge
Complete a minimum of 4 large motifs per design, there are 6 designs = 24 motifs.
Complete a minimum of 15 mini connector motifs.
Diva Dan has written a free downloadable PDF eBook with the patterns. Our website will have the linkable videos but you can also find the videos in our YouTube Channel.
Crocheters will have a minimum to complete to qualify to be featured in our gallery.
Once a crocheter is ready to submit, they just email us a photo with their name. You have until Labour Day, September 7th at 6 PM EST to submit us a photo. Your photo will be entered into the Stitch-cation 2015 Hall of Fame on Flickr.
The more afghans you complete, the more times you can enter.
Submissions
How To Submit Your Photo
Submitting for the Crochet Crowd Challenge is really easy.

Please email your photo to:

Please use Subject Title: Stitch-cation
You must include your Full Name to qualify.
Attach your photo(s).

If you have forgotten to include your name and have to resend, you must send in your photo again with your new email.

Give us a 4 day window to review and enter your photo into our challenge. Do not resubmit. We do not acknowledge the arrivals of each email, but you may check our assigned gallery to ensure we have received it. The galleries are in alphabetical order by the name you gave us.

To help avoid your email from being misdirected and hitting our junk box. You must use the subject title. We are not responsible for emails that are misdirected as a result of a submission not following this procedure. To protect our servers, we delete any emails that arrive that have no subject title to prevent malware and virus programs from our systems.
There will not be any prizes. This is a community stitch-along.

The Crochet Crowd, being Canadian, has always been about being inclusive. Due to International Laws with country, territory, state and provincial regulations. We can no longer offer prizes with our challenges and be inclusive to all members of The Crochet Crowd.
The restrictions prevents us from being able to offer prizing to our entire community; therefore, we have eliminated our prizing element to be fair to everyone.
Our challenges are about doing a fun project together as a community and learning new skills. We do not want to discontinue the free learning aspect and community vibe that we have created. We will still continue doing our challenges and acknowledging the creativity throughout the challenge period. The true prize is the community element and having a finished project worthy of celebration.
Thank you for your understanding.
Materials Needed
Size 6 mm or J Crochet Hook.
Approximately 8 balls of 7 oz Bernat Super Value. You can substitute your yarn if you wish. Colours are subject to you but if I were to purchase, get 2 balls of 4 different colours that compliment each other. You can use as many colours as you wish. You can even do 1 solid colour if you want to as well. You can refer to our Colour Combinations for ideas.