It's Looking Pretty Grim!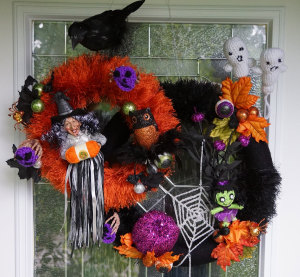 Grim Challenge
Beginning September 15th, 2014.
With Halloween just around the 'cemetery', what better way to get into the scary and haunting mysterious mood then to decorate your house, especially the creaky front door where you can howl and enchant the trick or treaters as they come dancing down your walkway like goblins in search for candy.
The challenge is to create a nightmarish magical wreath with a Halloween theme. Scary, creative and, of course, trickery fun. This is a ghastly challenge even for the kids.
The eerie wreath MUST be made out of YARN! Scary enough???? Don't let the noisemaker scare you. You know you can do it and you want to. The voices are telling you too! You can do this in any way you like. You can use any means for a base, Styrofoam shaped wreaths, pool noodles duct taped to form a circle, coat hanger etc. Applying the yarn to the base is entirely up to you. No Fortuneteller is needed for this challenge. Diva Dan did his wrapping like a rope with Lion Brands Fun Fur and Fun Yarn but you can, if you wish and to be dared, crochet the wreath as well.
The wreath must be in the Halloween theme. If you are not into goblins, witches and bats, there are many other ways to make it look 'Halloweenish' with crows, the fall colours, pumpkins and much more.
You must have no less then 4 crocheted items on the wreath. So do some searching, there are tons of patterns out there that can give you the chills and jitters. Most importantly, take your time to stretch your imagination and make it fabulous. After all this is going on your front door!
31+ Free Crochet Patterns to Try

One frightful lucky person at the end, will be gifted a fully loaded Lion Brand Bag of enchanting and enticing yarn.
Each completed wreath is considered 1 entry. Do as many as you like. We have random draws, unless otherwise stated. It's a lottery system and everyone has a fair chance. If you decide to do what Diva Dan did applying two wreaths together, (by the way, this is a fabulous idea) that would be consider as two entries providing that you have 4 crocheted items for EACH wreath. Therefore in this case, using math that was taught to us in Grade 1, you would need, How many….. thats right, 8 crocheted items for two wreaths. Of course you can add far more then that to really make it impressive.
This challenge is being hosted by The Crochet Crowd and Sponsored by our friends at Lion Brand® Yarn Company. The challenge ends Halloween Night on October 31, 2014 at 11:59 pm Eastern Standard Time.
For this challenge, Lion Brand is giving away a $150 Yarn Gift Bag that you will love. The winner, as usual, will be randomly drawn from all of the submissions.
We will be collecting photos for us all to enjoy as the challenge is completed by crocheters.
No advance sign up is required.
If you would like advance notice to remind yourself, you can subscribe to our newsletter.
Your Challenge
You can use any type of yarn to cover your base wreath or circle. The wreath must be completely covered with yarn. You can crochet a cover or wrap the yarn around the wreath or even make mini yarn balls to glue onto the wreath to cover it. Suggested Yarn is Lion Brand Fun Fur which makes a furry fabulous wreath or Fun Yarn.
You can make any size you want with a minimum of 10″ in Diameter.
You can choose any colours you wish. You can mix and match your yarns. You are the creator. You may substitute with any yarn to make this project.
Complete a minimum of 4 crochet Halloween theme motifs / appliqué, and/or amigurmi  to be applied per wreath. Please notes, For example, if your motif is made up of a few pieces in order to make the 1 complete motif, that is classified as 1 motif.  Diva Dan used Lion Brand Bonbons because he could get a great variety of colours and Vanna's Glamour for the shimmer and sparkle for the spider webs and the ghost.
Diva Dan went beyond and added a few decorations that we had sitting around the house. You can embellish your wreath with mixed media such as ribbons, buttons, dollar store items, ornaments from Michael's, Hobby Lobbies, JoAnne, AC Moore & etc. Go crazy for Halloween sponsored by our friends at Lion Brand Yarns.
Diva Dan's version is a double wreath with one overlaying the other. This type of wreath presentation would count as two entries. Each wreath needs a minimum of 4 crocheted appliques, motifs  or amigurumi.
You can make as many wreaths as you want, each completed wreath counts as 1.
---
Materials List
Here is a list of materials, DO NOT START before September 15th, 2014 as we have guidelines to ensure fairness. Diva Dan will cast a magic spell putting you on a yarn diet forever!

Free Shipping from Lion Brand® Offer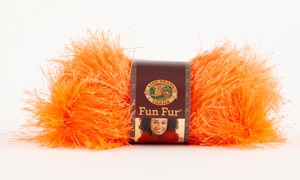 All yarns presented in our Grim Challenge Page on Lion Brand® Website plus any yarns you wish within their entire website .
All the yarns presented in our Grim Challenge Page can be found on this Lion Brand® Supplies Page. Use the code and shop for supplies, plus any other yarns you wish within their entire website.
crochetcrowd2014
Free Shipping is to Canada or the USA Domestic Only
Store Locations
If you feel like getting out and going shopping at your local store. You can find the suggested yarns for this project at the following locations:
Fun Fur – AC Moore, Hancock Fabrics, JoAnn's & Michaels Stores
Vanna's Glamour – AC Moore, Hobby Lobby, JoAnn's, & Michaels Stores
Bonbons – AC Moore, Hobby Lobby, JoAnn's & Michaels Stores
Yarn selected may vary by store locations.
Go dunking for yarn balls and laugh with witches delight because this challenge is about to take flight. Free shipping offer ends September 30th, 2014, Eastern Standard Time.
---
Wreath Base Suggested Shopping List – 1 Wreath Minimum Required.

Diva Dan has made two wreaths for inspiration ideas. You just need to do one wreath. Your wreath has to be a minimum of 10″ diameter. Each finished wreath you do is considered 1 entry. If you do a sample like Diva Dan's, that will be displayed on Sept 20th, it will count as 2 entries.
Pool Noodle Made Into Wreath Base. Save money by using Pool Noodles. Pool Noodle wreath is 10″ diameter. Pre-formed Styrofoam wreath is 15″ diameter and is considered an average size for door or wall hanging. Not available through LionBrand.com

10″ Minimum Styrofoam Wreath. Average wreath size for a door is about 15″ diameter. Diva Dan has used two wreaths in his project. One is 10″ and the other is 15″. Inexpensive Tip: Use pool noodles to save money.

Duct Tape – if cutting poodle noodles.
Floral Wire
Hot Glue Gun
Suggested Yarns for Base Wreath
This is subjective to you and your decorative discretion. This is largely depending on the size of your project. Keep in mind to order and have on extra yarn for your peace of mind.
10″ (or 26cm) Diameter Wreath
15″ (or 39cm) Diameter Wreath
Optional: Use 4 balls of Lion Brand® Fun Fur® to cover the entire wreath. Diva Dan's example uses a combination of the 2 types of yarn.
Your wreath yarn base choices are not limited. Use your scary imagination to use any yarns you wish which include any colours you desire. Keep in mind, we are open minded in whatever Halloween Theme Wreath you can create.
Embellishing with Crochet
There will be a minimum requirement of crocheted items to the wreath. We will give this information upon the launch. Choose wisely.
Diva Dan used the following yarns to embellish the wreaths:
Bonbons® for a great colour variety choice as you won't need much yarn of any particular colour.
Vanna's Glamor® for a shimmering effect.
Fun Yarn® for fun thick colours.
Embellishing with Mixed Media
You may add mixed media such as ribbons, ornaments, flowers, buttons, beads or whatever you can find.
---
Getting Started Help
Diva Dan's wreath is a double layered wreath. Combined with yarn that was wrapped around the styrofoam with crochet motifs added to it. Topped off with pre-made Halloween ornaments purchased at craft stores and dollar stores.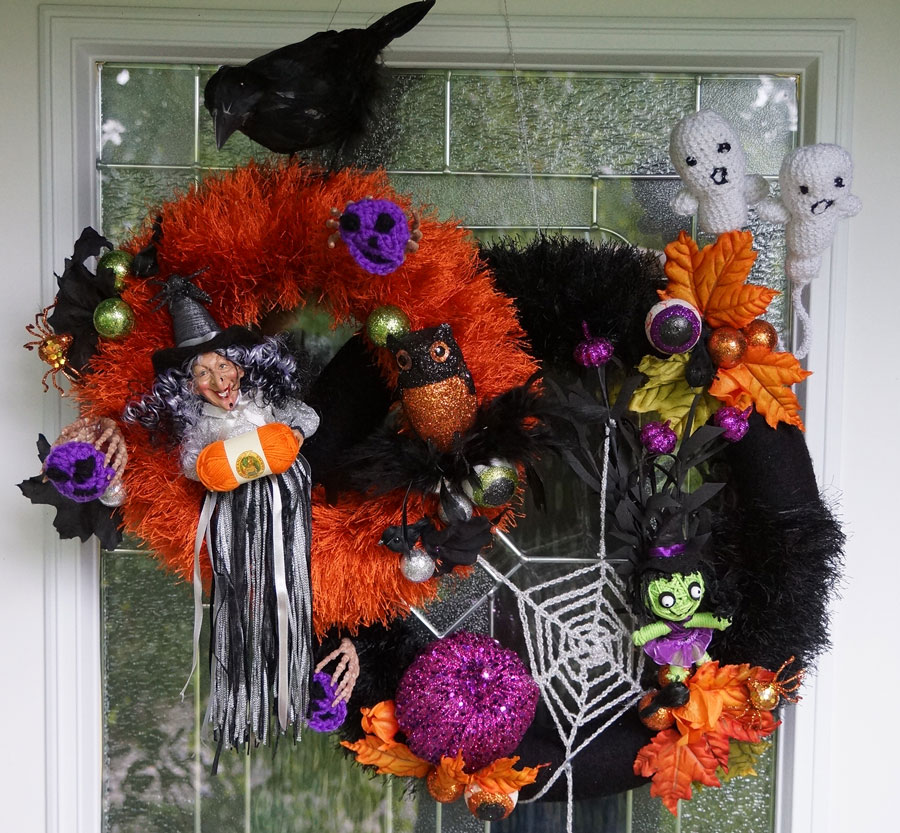 Use a Styrofoam ring or use a pool noodle to make a ring. Pool noodles are far more cheaper and will never know the difference once your project is done.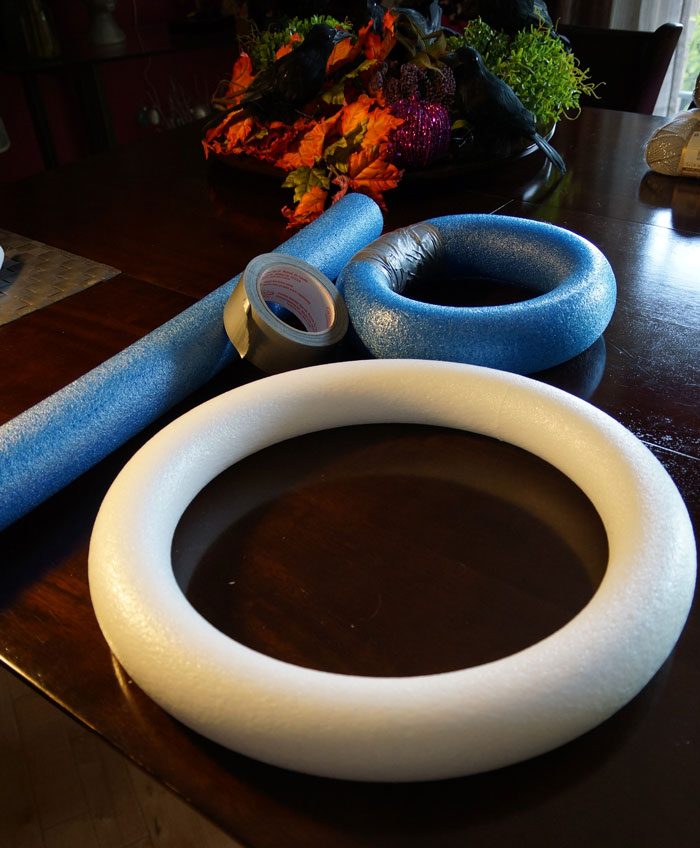 You can cover the Styrofoam with several options, even mixing up the options to make it far more interesting.
You can decide to make a crochet cover to wrap around the wreath and sew along a seam line to permanently attach the cover to the wreath.
You can wrap the wreath as it shows below. Diva Dan tacked the beginning and ending with hot glue directly to the Styrofoam to prevent unraveling. He divided up the wreath into 6 equal parts and wrapped the wreath with Fun Fur and Fun Yarn.
You can make mini yarn balls and glue them to the wreath.
You may have even more ideas on how to wrap the wreath and you use a mix of ideas to make it unique.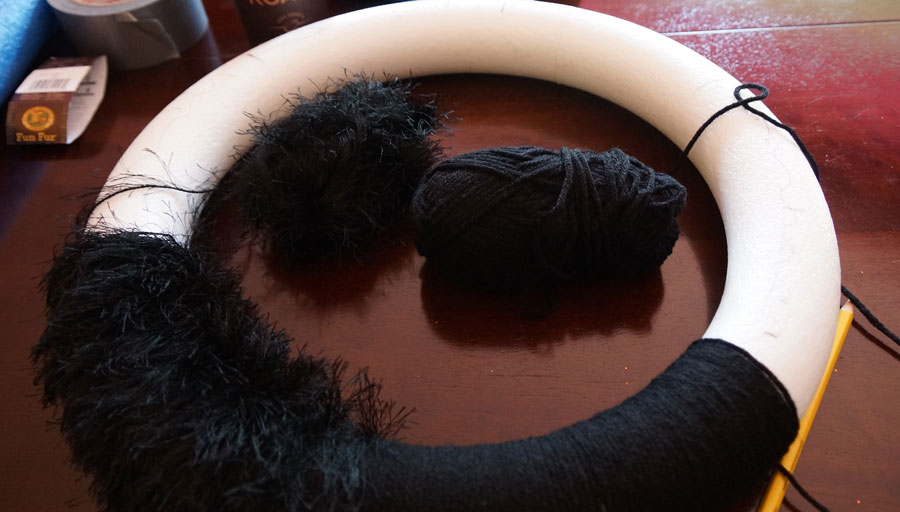 As you can see below, he opted to have the large 15″ diameter wreath covered with both Fun Fur and Fun Yarn. The smaller 10″ wreath, he decided to use 100% fun fur.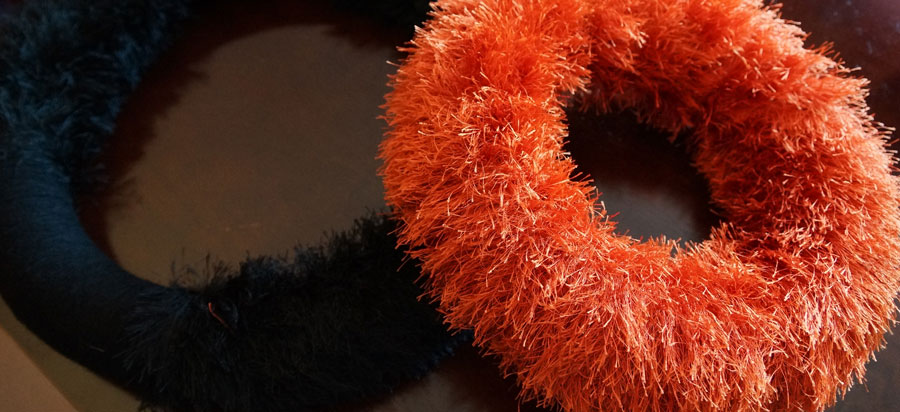 If you decide to want a double or triple layered wreath. Just remember you need 4 motifs per wreath if doing multi-layered wreaths. Each wreath is considered 1 entry even if affixed together like Diva Dan's example.
Using floral wire, Diva Dan poked the wire through half of the styrofoam on one wreath and half of the other. The Fun Fur covers the wire perfectly. Secure the wire that will permanently attach the wreaths together.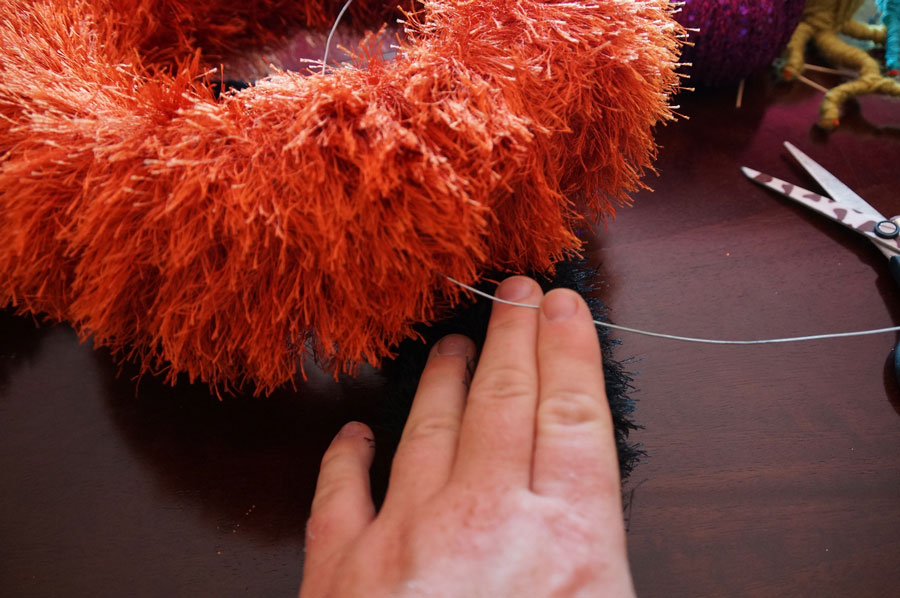 For heavier objects in the wreath or any ornaments that need special positioning where glue isn't an option. Use the floral wire to attach to the wreath. The witch ornament, eye balls, birds, pumpkin, ghosts, voodoo doll and skeleton hands all have wire that was either glued to the ornament and poked into the Styrofoam and secured.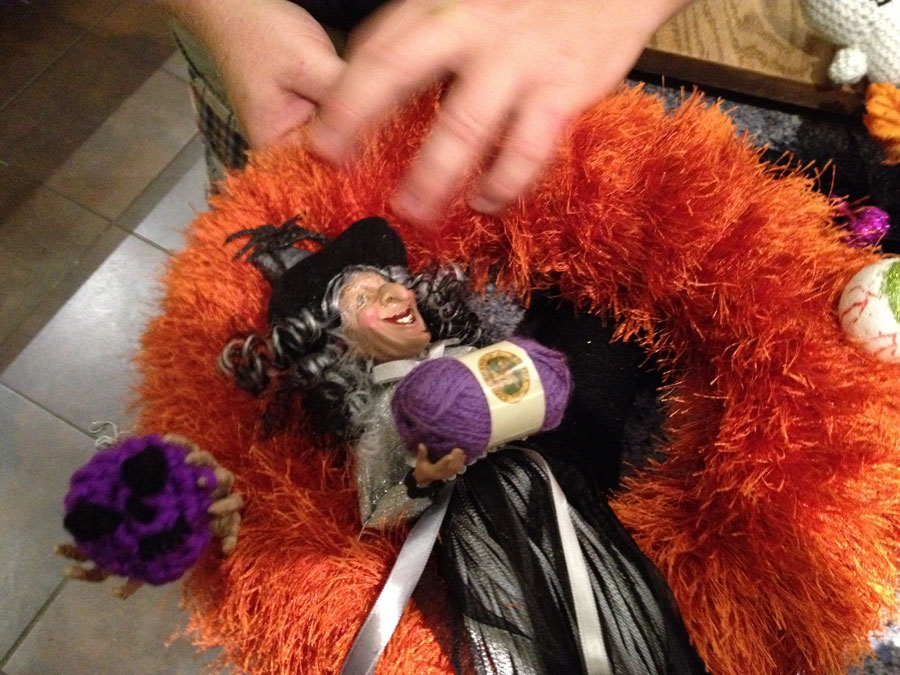 Other ornaments were directly glued to the yarn or attached to other ornaments using hot glue.
Finished Close Up Photos
The following photos are examples of Diva Dan's completed wreath. This may inspire you for ideas.
The Lion Brand® Bon Bons were great for the mini motifs used in this project. Being yarn artists, we couldn't help but use one of the Bon Bons for the witch to hold. Doesn't it make sense that the witch is holding a yarn ball on the wreath?
Using the store ornaments, the wreath has a 3D look. Using the floral wire helped bring out the ghosts, hands and other objects found within the wreath.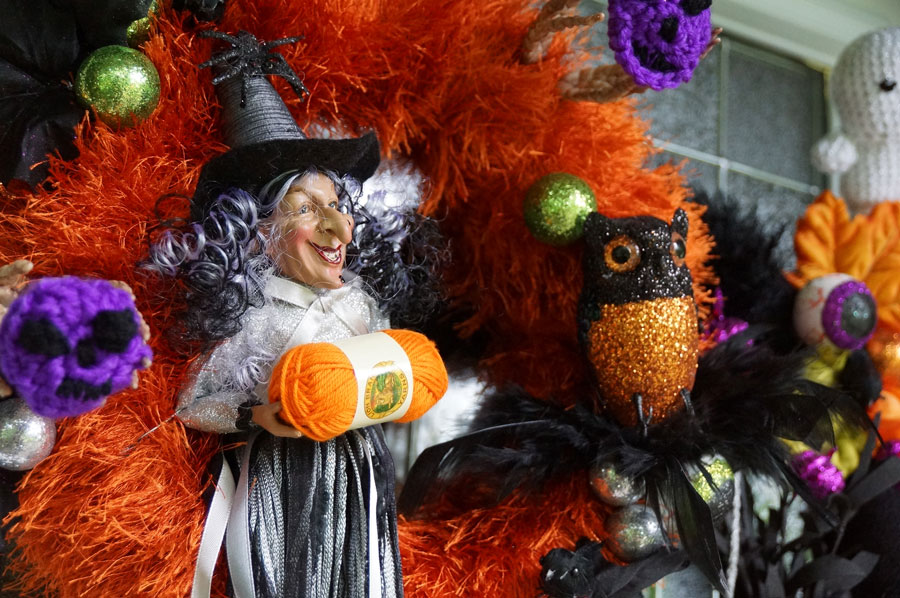 Look carefully, there's more than meets the eye. There are a mix of fake leaves with Halloween theme decor. Do you see the small black birds. Don't under estimate that smaller decorations don't always have to be obvious when on the wreath. It adds more visual charm and appeal.
Notice the black feathers? That was actually pieces from a feather boa. Sometimes, we already have items lying around that you an incorporate into the wreath.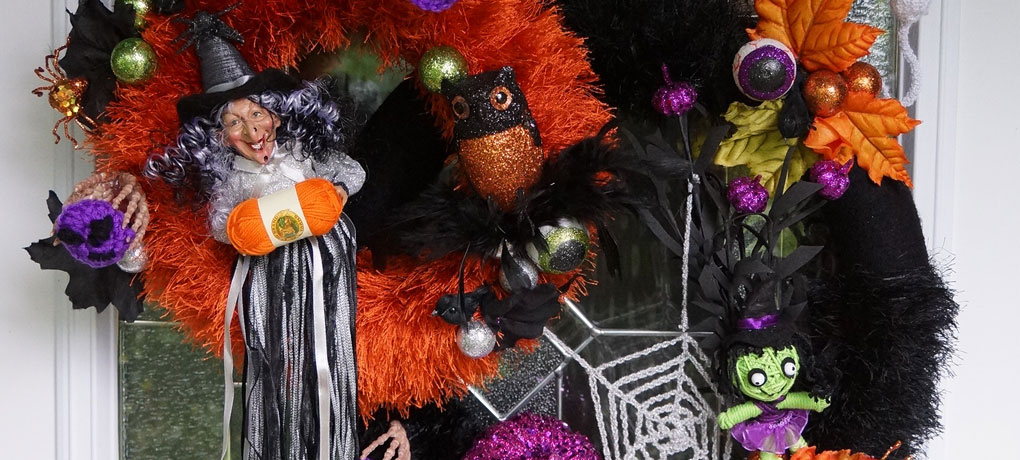 The Voodoo Doll was an ornament but looking at it closely, we could have probably made a version up using our own yarn.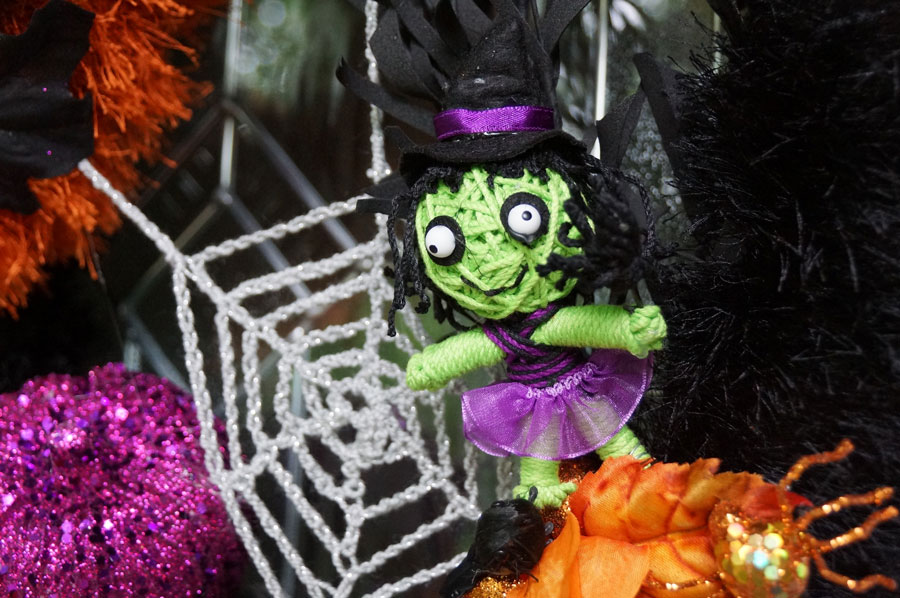 Finally, do not over decorate. You've spent a lot of time wrapping the wreath with yarn to express your interest in the yarn arts. Let your love for creativity shine through.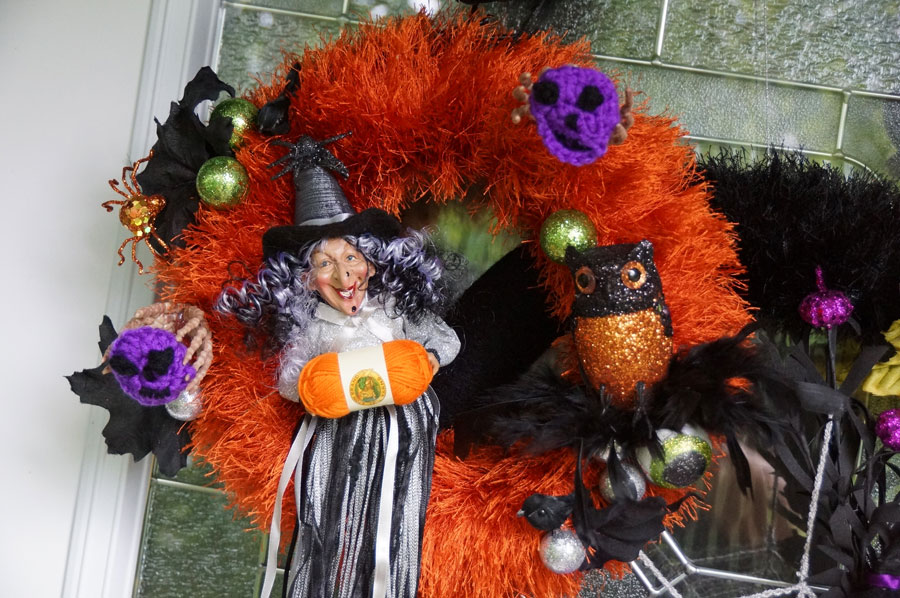 Challenge Guidelines
There is no sign up required to participate. Complete the project and submit your photo when you are done. This challenge is open to fans of The Crochet Crowd. There are no restrictions of country origin associated to our challenges.
You may use any yarn you wish. Lion Brand Fun Fur is perfect! You may substitute your yarn for any brand or colors that you desire. You may create any color scheme but it still must be a Halloween theme.
The Wreath must be completely covered with yarn.
You may do as many projects as you wish. Each submitted project is considered a separate entry. If multiple entries are identical, a picture showing the projects together to prove their are multiple must be included with your submissions.
Crocheters Choice: you may add embellishments, borders and etc to the pattern to push your creativity further.
We require your photo to show the entire project hung on the door so we know the entire project is done and embellishments are attached. The project photo must be showing all of the project for us to examine it's completion. Ensure your motifs, Appliqué, and/or amigurmi are completely finished with yarn tails and etc not showing. It's like giving it out as a gift, we want to the see the photo showing as if you were gifting us the finished product. We will then know you are completely done.
This is intended for a fun community challenge only. We each are deserving of the highest praise possible for our own creativity. Let's have fun.
How to Submit Your Photo
Submitting for the Crochet Crowd Challenge is really easy.
Please email your photo to: MikeysHelpDesk@hotmail.com
•    Please use Subject Title: Halloween Wreath
Photo Must Be Taken with the Wreath being on mounted to a wall, fence or door. Wreaths lying down on tables or hand held will not be accepted into the gallery as an entry.
•    You must include your name and full mailing address to qualify.
•    Attach your photo(s).
If you have forgotten to include your name and address in your email and have to resend, you must send in your photo again with your new email.
Give us a 3 day window to review and enter your photo into our challenge. Do not resubmit. We do not acknowledge the arrivals of each email, but you may check our assigned gallery for this draw to ensure we have received it. The galleries are in alphabetical order by the assigned name you gave us.
To avoid your email from being misdirected and hitting our junk box. You must use the subject title. We are not responsible for emails that are misdirected as a result of a submission not following this procedure. To protect our servers, we delete any emails that arrive that have no subject title to prevent malware and virus programs from our systems.
Lion Brand® Yarn Company would love to see your creativity as well. Feel free to post your finished wreaths on the Lion Brand® Facebook Page.
Please Read Challenge Rules Before Submission
Photo will be checked to verify it meets the challenge requirements.
All photos must be submitted during the challenge time frame only to be eligible for the prize giveaways. Entries after this due date will be accepted for our gallery but there are no prize giveaways after the deadline. We are firm on deadlines and do not offer extensions to be fair to everyone who has submitted on time.
When you email your finished photo to us, we respect your privacy and will only post your first and last name on the picture in our gallery with the photo so we can identify the winner at the end.
Posting your photos to our Facebook Wall doesn't count as an entry. You must send it to us using the email above for us to review and process.
We will not switch the photo if you are unhappy with how it looks in the gallery, please ensure it's the photo you definitely want featured is the only one sent.
Your emails are kept on file for the duration of the challenge and then deleted afterwards. We do not add your email to our newsletter lists.
Due to the countless technology platforms and services, we are not responsible for any of our challengers if a mobile devices or technology that isn't compliant to being able to read our website, view our videos and/or get access to the free patterns.
Please verify your entry is in our gallery prior to our draw. We need up to 3 days to get your entry into our gallery. We upload it ourselves as part of our review process. If you do not see your entry, we most likely haven't received your email. Do not wait until after the draw to check if your entry is in.
We are not responsible for any emails that are not delivered to us before the due date.
If we are concerned about your entry or do not accept your entry, we will email you back with our concerns.
Show N Tell on Facebook
Show'n Tell: Post your finished project on The Crochet Crowd Facebook Page to show everyone your finished work so we can drool over your creativity.
Featuring on Facebook is dependent on you. We do not upload your emailed photos to Facebook. You have to do that yourself if you want to Show N Tell your creativity.
Video tutorials will not be provided with this challenge.