Blooming Crochet Hats Autographed Giveaway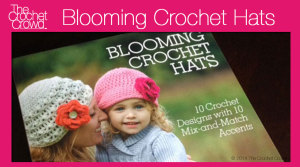 Blooming Crochet Hats
Win a copy of Shauna-Lee Graham's crochet pattern book by entering a simple giveaway.
You can read my review of this book as I think it's wonderful and a great resource to have in your pattern library collection.
How to Enter this Giveaway
Giveaway Entry is between Nov 1 – Nov 30th, 2014 Only
1 Entry Per Person. Multiple entries from the same person will void all entries.
If you live on planet earth, you can enter this giveaway.
Emails sent through Facebook or personal email to any of The Crochet Crowd members will be void.
Send an Email Titled: Giveaway
Email:  MikeysHelpDesk@hotmail.com
Full name and mailing address must be included in the email. We do not use this information or share this information beyond this entry. All entries will be deleted after the draw.
Any emails that are missing full names or addresses missing when the draw takes place will automatically void the entry. Please ensure all information is there. If you have forgotten to include your name or address, you can email once with a correction.
4 Draws will take place and shipping to your home will be handled by The Crochet Crowd.