Lucy The Sock Monkey Presents…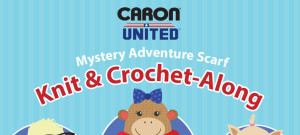 Crochet Along Begins Sept 9, 2014
Yarnspirations proudly introduces a unique Knit & Crochet Along Adventure starting September 9th, 2014.
I received the 'low down' on this crochet adventure back in June 2014 and I was really blown away by the concept. This crochet along is unique and very unusual. I'm not allowed to let the 'yarn' out of the bag, sort of speak.
I can tell you a few details though. Lucy, the sock monkey, will be sharing the adventure with you on how to create a unique and absolutely 'one-of-a-kind' scarf. Simply brilliant idea. She will be giving you clues each week. How can a scarf be 'one-of-a-kind' if Lucy is sharing the clues each week? Just you wait and see.
Lucy will be using the new Caron United Yarns for the crochet along adventure. You can sign yourself up now if you would like to participate. It's worth it if you ask me. Have fun and enjoy your mystery scarf!
This challenge is being run by Yarnspirations.