Where in The World Are You with Red Heart?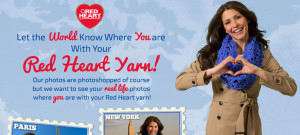 Photo Challenge with Red Heart
This challenge is about taking a photograph of yourself in public with Red Heart Yarns.
You have two options to enter.
You can either be in public holding a Red Heart Yarn Labelled Ball.
Or, you can wear a Red Heart made item and form a heart with your hands.
You are to be in public. It doesn't have to be exotic but in a public space. Maybe a mall, park, library, car and any other locations other than your home.
There is monthly prizes being awarded. The fun finishes at the end of October 2014.
Learn how to enter and potentially win some yarn at the same time!