Stitch-cation Afghan Challenge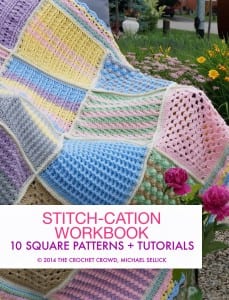 Join us on Stitch-cation
The fun begins July 1, 2014 when The Crochet Crowd goes on Stitch-cation together. Designed to enhance your crochet skills and pull ideas from your imagination, the Summer Stitch-cation is going to be really exciting to see everyone's creativity unfold.
At the end of the summer on Labour Day, Sept 1, 2014, everyone's afghans must be submitted to qualify to win 1 of 3 Red Heart Fully Loaded Yarn Bags with Crochet Crowd Gifts. The 3 winners will be randomly drawn so everyone has an equal opportunity to win.
Goals of the Project
Learn and/or be refreshed with 10 different stitch combinations.
Learn how to change colours effectively without hideous knots hanging out.
Explore colour with a minimum of 8 colours must be used. Don't be limited by making each square a different solid colour. Play with colour mixing within a square. During the submission process, we will be counting colours used to ensure fairness to all challengers.
Exercise free will when deciding how to put your afghan together.
Free Choice Border, a border must be applied, you have to figure the border out on your own and apply one.
Materials
We are using a Size H, 5.0 mm Crochet Hook. You can substitute your hook for larger results.
We are using 9 colours. We have chosen 9 skeins of the Red Heart Super Saver 7 oz, the size you will find in Walmart. 8 Colours are in the body of the afghan with an additional 9th colour in the border that attaches the squares together.
Downloadable Stitch-cation Workbook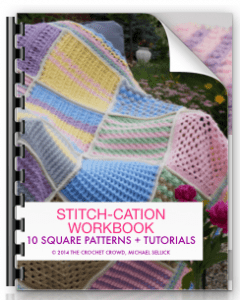 I have created a Stitch-cation Workbook that is free and downloadable. I found with myself while working on this project that I am confused by the names of the squares. I kept having to go back and trying to figure out which squares I have done and which squares are still left.
Inside the eBook, it goes above and beyond the patterns and videos. I have provided write ups, pictures, free pattern links and video tutorial links. Your eBook will need Internet access to enjoy.
Download this Free Stitch-cation Workbook.
You can either download this eBook to keep yourself organized or scroll down below to access all of the videos and free patterns used within Stitch-cation. Please note that my write ups and tips are only available inside the eBook.
Introduction to Stitch-cation
Video Tutorials & Free Patterns
Popcorn Stitch Square – Make 2
Unique Granny Square – Make 2
Front Post Treble Crochet Square – Make 2
Back Loops Square – Make 2
Cross Stitched Square – Make 2
Front Posts around Single Crochet Square – Make 2
Raised Crochet Trebles – Make 2
Shells + Back and Front Posts – Make 2
Front Post Double Crochet Square – Make 2
Double Crochet + Slip Stitch Square – Make 2
Please refer to the Stitch-cation Workbook for sewing squares together and border recommendations.
The Challenge
To Make It Fair to Everyone
8 Colours Minimum must be used. We need to ensure we can count 8 colours when you submit your photo. You can use more than 8 if you wish.
For this challenge, 8 different colours are required for a minimum. We are going to be counting the colours when you submit with no exceptions of afghans that are not having enough colours. If using variegated yarns, 1 type of variegated yarn ball is classified as 1 colour of the 8 regardless of how many colours are in the one ball. The goal is to explore colour with this afghan by using creativity to put your colours together.
Your afghan minimum size is 20 squares. It will be 4 squares wide by 5 squares long.
Your afghan MUST have at least 2 of each square design to qualify.
You can make your afghans much bigger but you still must meet the minimum of having at least 2 of each style of square in your afghan.
The point of this afghan is to learn stitches and concepts.
It is your free choice on how to you attach your squares together. You can crochet and/or sew them together. Part of the challenge is figuring out what you prefer.
A border around the entire afghan must be applied that is your free choice to create. The border must be a minimum of 4 rounds to qualify.
Standard Guidelines
There is no sign up required to participate. Complete the project and submit your photo when you are done. This challenge is open to all Crochet Crowd Community Members. There are no restrictions of country origin associated to our challenges. If you are a member of The Crochet Crowd, you may participate.
You may use any yarn you wish. You may substitute your yarn for any brand or colors that you desire. You may create any color scheme. For this challenge, 8 different colours are required. We are going to be counting the colours when you submit with no exceptions of afghans that are not having enough colours. If using variegated yarns, 1 type of variegated yarn ball is classified as 1 colour of the 8 regardless of how many colours are in the one ball. The goal is to explore colour with this afghan by using creativity to put your colours together.

You may do as many projects as you wish. Each submitted project is considered a separate entry. If multiple entries are identical, a picture showing the projects together to prove their are multiple must be included with your submissions.
We require your photo to show the entire project so we know the entire project is done. The project must be showing all of the project for us to examine it's completion. Ensure your project is completely finished with yarn tails and etc not showing. It's like giving it out as a gift, we want to the see the photo showing as if you were gifting us the finished product. This way we know you are completely done.

If you are changing your hook size, we are still looking for the pattern to be the same. Even though your item may be bigger or smaller, we expect the same pattern to be followed. Changing the hook size doesn't add or take away from the work involved in the stitches.

The projects must be the same stitching as indicated in the pattern. Do not disqualify yourself by changing the pattern stitching. Submission of a project equivalent to the project but isn't the same will not be accepted.

Crocheters Choice: After your pattern instructions are complete, you may add embellishments, borders and etc to the pattern to push your creativity further.

All photos must be submitted during the challenge time frame only. Entries after this due date will be accepted for our gallery but there are no prize giveaways after the deadline.

Your Choice: Post your finished project on The Crochet Crowd Facebook Page to show everyone your finished work so we can drool over your creativity. 
When you email your finished photo to us, we respect your privacy and will only post your first and last name on the picture in our gallery with the photo so we can identify the winner at the end.

Featuring on Facebook is dependent on you. We do not upload your emailed photos to Facebook. You have to do that yourself if you want to Show N Tell your creativity.

One random choice will be made at the end to select one winner. It's a lottery system and everyone has a fair chance.

We are not responsible for undelivered email and/or late entries to qualify for the gift bag.

Due to the countless technology platforms and services, we are not responsible for any of our challengers if a mobile devices or technology that isn't compliant to being able to read our website, view our videos and/or get access to the free patterns.

Please verify your entry is in our gallery prior to our draw. We need up to 2 days to get your entry into our gallery. We upload it ourselves as part of our review process. If you do not see your entry, we most likely haven't received your email. Do not wait until after the draw to check if your entry is in. 
This is intended for a fun community challenge only. We each are deserving of the highest praise possible for our own creativity. Let's have fun.
Submit Your Photo
Submitting for the Crochet Crowd Challenge is really easy.
Please email your photo to:
Please use Subject Title: Stitchcation
You must include your name and full mailing address to qualify.
Attach your photo.
To avoid your email from being misdirected and hitting our junk box. You must use the Subject Title stated above. We are not responsible for emails that are misdirected as a result of a submission not following this procedure.
Please read challenge rules before submitting photo.
Photo will be checked to verify it meets the challenge requirements.

Posting your photos to our Facebook Wall doesn't count as an entry. You must send it to us in the form above for us to review.

We will not switch the photo if you are unhappy with how it looks in the gallery, please ensure it's the photo you definitely want featured is the only one sent. 

Your emails are kept on file for the duration of the challenge and then deleted afterwards. We do not add your email to our newsletter lists.

We are not responsible for any emails that are not delivered to us before the due date.